August 2009 Update!
Two new Harold Lamb collections are now in print, and two more will follow in 2010. Follow these links below to order Swords from the West and Swords from the Desert.
The complete Cossack adventures of Harold Lamb are
NOW AVAILABLE!!!
Wolf of the Steppes, Warriors of the Steppes, Riders of the Steppes, and Swords of the Steppes can be ordered from Amazon right now!!!
This is the collection you've been waiting for! Journey now with the unsung grandfather of sword-and-sorcery in search of ancient tombs, gleaming treasure, and thrilling landscapes; match wits with deadly swordsmen, scheming priests, and evil cults; rescue lovely damsels, ride with bold comrades, and hazard everything on your brains, skill, and a little luck.
These four volumes reprint every single Khlit the Cossack adventure, printed in order. Some have been out of print since the 1930s and some have never been printed between book covers. There's MORE -- the volumes include all the stories of Khlit's allies and fellow Cossacks, as well as more than a half dozen standalone Cossack stories, behind-the-scenes letters, and introductions from leading speculative fiction authors like S.M. Stirling, David Drake, and E.E. Knight. Harold Lamb's cousin, Barrie Tait Collins, wrote the introduction to volume 4!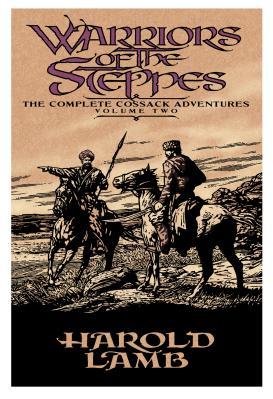 Welcome
Harold Lamb authored dozens of respected histories and thousands of pages of historical fiction, published in the finest short story magazines of his day. But despite his contemporary popularity, Lamb is little known today. Most of his fiction is out-of-print or forgotten--a circumstance viewed as mysterious by any familiar with his work.
Lamb created cycles of remarkable historical fiction for the pulp magazine Adventure set in locations as fabulous and unfamiliar to most readers as Burroughs' Mars. Where many adventure tales are predictable from the first word, Lamb's plots were full of unexpected twists. He wrote convincingly of faraway lands and dealt fairly with their inhabitants, relating without bias the viewpoints of Mongols, Moslems, and Hindus.
His stories are rarely profound psychological drama, but Lamb nonetheless breathed humanity into his characters, endowing them with realistic hopes and fears. Unlike almost all of his predecessors, his pacing still feels modern - he never stopped for slow exposition. His plots thunder forward as though he envisioned each one for cinema the moment he slid paper into the typewriter.
A fine craftsman and master plotter, his stories of Khlit the Cossack rank among the best adventure tales written last century, and are the template upon which countless stories of heroic fiction are based.
But don't take my word for it:
I think a poll of those following the trail of adventure/historical fiction today will reveal either direct, or most certainly an indirect influence from Lamb on nearly all of the main players.
--William Forstchen
Harold Lamb knew how to write straight-ahead adventure the way Michaelangelo knew how to paint. Vivid, spare, and real, his writing sucks you through the page and into a world where anything is possible and nothing is dull; his people seem more interesting than your own friends and family.
--S.M. Stirling
Harold Lamb was one of the finest adventure fiction writers of the twentieth century. Lamb had two concerns. Writing exciting stories, and keeping them historically accurate. Combine this with a vivid imagination and a knowledge of the period that matched most historians and you have an unbeatable connection. Plus, Lamb had a wonderful sense of the dramatic. His heroes were properly heroic and his leading ladies vivid and desirable. And his secondary characters were oftentimes as fascinating as his leads.
--Robert Weinberg
About forty loosely linked novelettes in Adventure narrated the adventures of several Cossack heroes in the early seventeenth century... They are tales of wild adventure, full of swordplay, plots, treachery, startling surprises, mayhem, and massacre, laid in the most exotic setting that one can imagine and still stay in a known historical period on this planet.
--L. Sprague de Camp
What's on This Web Site?
Here you will find an analysis of Lamb's writing techniques, information about the man himself, reviews of some of his work, and indexes of all of it. He is most famous for his scholarly histories and the fiction he wrote during the twenties and thirties, when he was one of the most popular contributors to Adventure magazine. The Adventure era is covered in detail, with indexes by year, title, and subject--which is further subdivided into cycles of stories.
The Curved Saber Harold Lamb Page


has been selected for the Violet Bookmark Award
for excellence in coverage of vintage genre literature
Where Can I Find Harold Lamb Books?
Bison Press, an imprint of the University of Nebraska Press, has published the complete, four volume set of Harold Lamb's Cossack stories: Wolf of the Steppes, Warriors of the Steppes, Riders of the Steppes, and Swords of the Steppes.
Bison has recently printed two new volumes: Swords From the West, a collection of Harold Lamb's thrilling Crusader stories, and Swords From the Desert, a set of novellas and short stories with Arabian heroes. 2010 will bring us Swords From the East, a collection brimming with adventures set deep in Mongolia and high Asia, and Swords From the Sea, a grab bag of stories set on or near the ocean, including two novellas of John Paul Jones, eight Viking yarns, and a short novel of America's war against the Barbary pirates.
Three of Lamb's novels have been reprinted in recent years by the Donald M. Grant company, with beautiful accompanying illustrations. A fourth, "Rusudan," is slated to appear soon.
The Bison and Grant collections assemble all of Lamb's best historical short fiction and novels.
Additionally, a handful of Lamb's histories and biographies are still in print, including his first biography, Genghis Khan. Most book stores should be able to order them for you, and there's always amazon.com, which has some reviews of Lamb's work by other readers.
---